LolaGeek @hiddeninthesand I like it! Can you make one that I could hang up at work, because I'm not sure "mucka blucka" is office appropriate.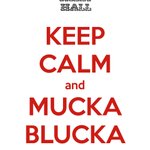 KEEP CALM and MUCKA BLUCKA #tallyhall pic.twitter.com/q1hU3jji
@robcantor @sedghizu looks like David Spayde's character in Tommy Boy when his hairpiece gets loose.
Due to outdated theme that's got no good spambot defense, HITS Forums has a new look. Not ideal, but it'll do. bit.ly/LgLaL8
P.S. Happy belated 1st Birthday, Good & Evil!
tessaml Fate of the Stars by Tally Hall playing while Amber cries in rehab. Most hilarious part of my day. Or my dad concert calling me at Korn.
Whew, lotta Teen Mom haters out there, huh! :-)
Music from @tallyhall to appear on tonight's episode of Teen Mom on MTV? It's apparently true! Don't miss it!
@notans That's weird. It's a stock script in the software, but I now disabled it because, yeah, it wasn't displaying. Sorry.
@notans UGH! Thanks. It's been happening every few weekends. CANT FIND WHERE THE HOLE IS!!!thatswhathesaid
adhorowi arranging sumthin awesome. new edu material coming soon.